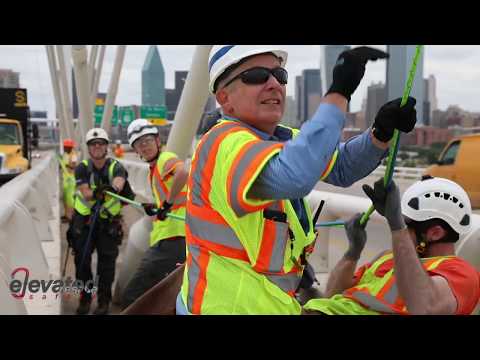 OUR MISSION
Elevated Safety is committed to safety, and making sure that everyone makes it home to their families after every job.
Elevated Safety provides the highest level of training in confined space as well as rope access, and rescue services across all industries. Elevated Safety also provides OSHA compliance training and compliance assistance to organizations across all industries.
Our staff consists of professional trainers and technicians, and most importantly, professional rescuers: including current EMTs, firefighters, and technical rescuers. Elevated Safety remains active in both the rescue and rope access communities though continued training, service on advisory committees, professional relationships with other training agencies, and as members of professional organizations.
AWARDS & RECOGNITION
Elevated Safety are the 2019 Winners of GRIMP North America, an international rope and confined space rescue competition held aboard the USS Iowa.
Elevated Safety was also the first American team to compete in GRIMP Belgium, finishing 7th in the world.
Elevated Safety Hosted 2018 SPRAT Conference in Glenview IL.
The Elevated Safety team is actively involved in the industry and hold these positions:
Board of Directors, (SPRAT)
Chair of Standards Operating Committee, (SPRAT)
Vice Chair of Standards Operating Committee, (SPRAT)
Chair of Communications Committee, (SPRAT)
SPRAT Evaluator
Past Clients
NEBRASKA PUBLIC POWER DISTRICT
CONFINED SPACE RESCUE TRAINING, ROPE RESCUE TRAINING
EXXON MOBIL
CONFINED SPACE STAND-BY RESCUE, CONFINED SPACE RESCUE TRAINING
TRANSYSTEMS
CONFINED SPACE RESCUE TRAINING, ROPE RESCUE TRAINING
HW LOCHNER
CONFINED SPACE TRAINING, CONFINED SPACE STANDBY RESCUE
WILLIS TOWER
CONFINED SPACE TRAINING, CONFINED SPACE CONSULTATION
SYMBIONT CONSTRUCTION
CONFINED SPACE TRAINING, CONFINED SPACE CONSULTATION
BLOMMER CHOCOLATE
CONFINED SPACE TRAINING, CONFINED SPACECONSULTATION
BLUE MAN GROUP
SPRAT TRAINING, SPRAT EVALUATION
UNIVERSITY OF ILLINOIS
FALL PROTECTION TRAINING, ROPE ACCESS TRAINING
MIDWEST STUNTS
SPRAT LEVEL III SUPERVISION
AECOM
SPRAT LEVEL III SUPERVISION, ADVANCED RIGGING
WE ENERGIES
FALL PROTECTION, ROPE ACCESS